Armed Forces Day National Event will be on Saturday 25th June 2022.

We have been working on securing and waterproofing the work that over a thousand local residents participated in making; to ensure that all of you who have contributed so far will get the opportunity to see your work shared with the wider world in the week leading up to the main event. Please see below for details of this exciting week of activities and to find our short films showing some of our work in the community for this event.

The community outreach programme for the Armed Forces Day National Event has been created and led by Animated Objects in schools and the community, commissioned by Scarborough Borough Council.
Animated Objects have been working with communities across the borough to create a range of different artworks for display in the run up to the big day.

The community outreach programme will begin with three children's parades representing the history of the different armed forces over the span of hundreds of years - including plenty of hand made parade pieces specific to our region. Each parade will have different content, and feature children from schools local to that town:


WHITBY - MON 20TH JUNE 9.45AM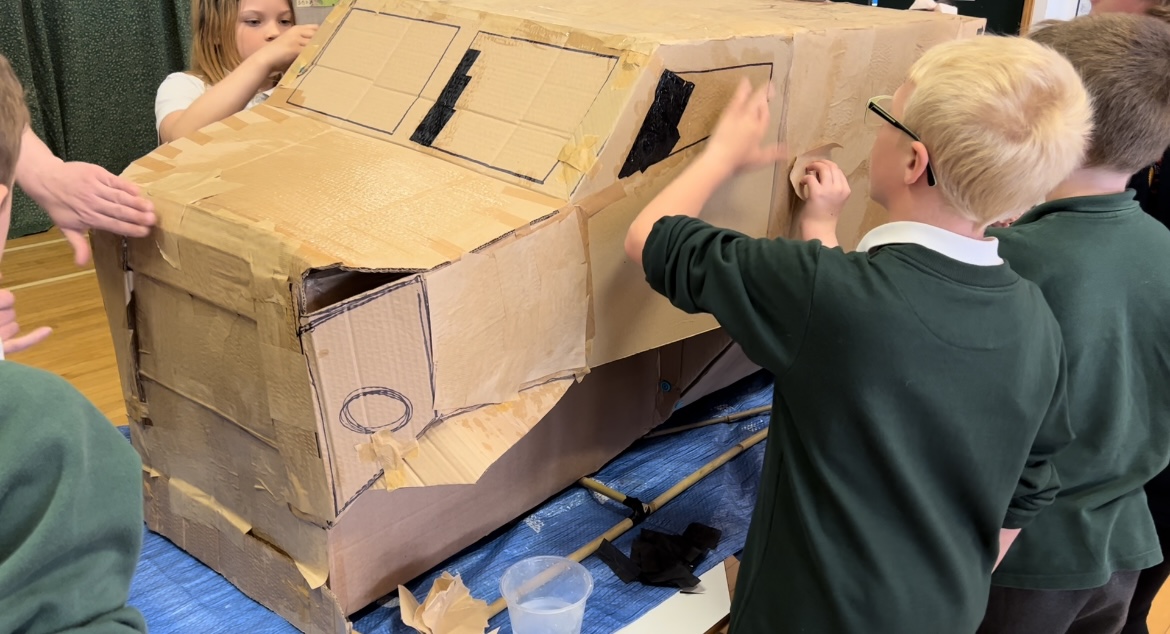 Whitby - Monday 20th June starting at 9.45am in Pannett Park and heading down through town to Dock End for the Flag Raising ceremony just after 10.00am.
Watch out for army patrol vehicles inspired by the Yorkshire Regiment; dazzle warships; and a special series of pieces in remembrance of the First World War.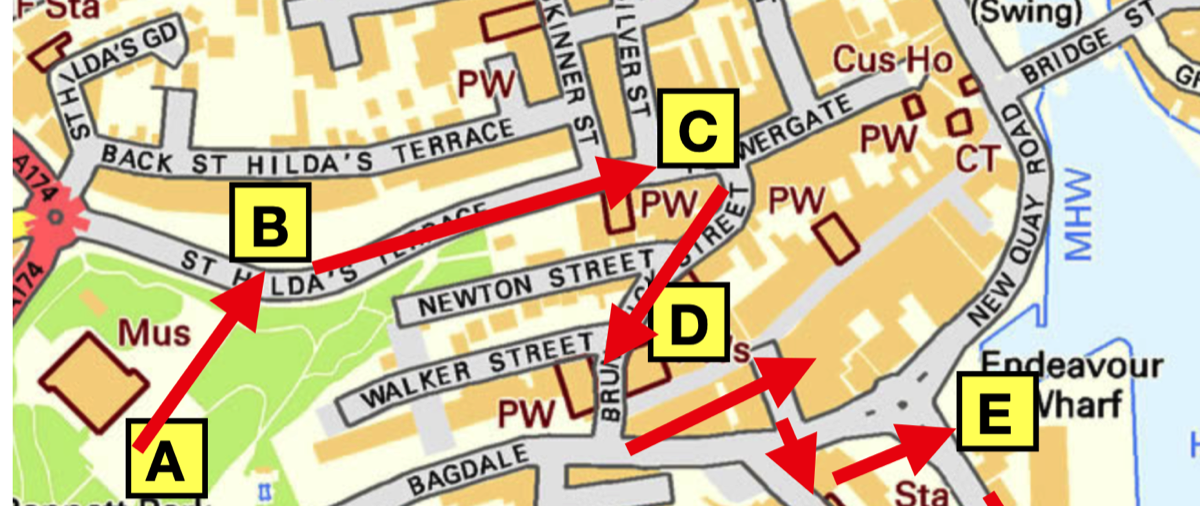 FILEY BEACH - TUES 21ST JUNE 1.30PM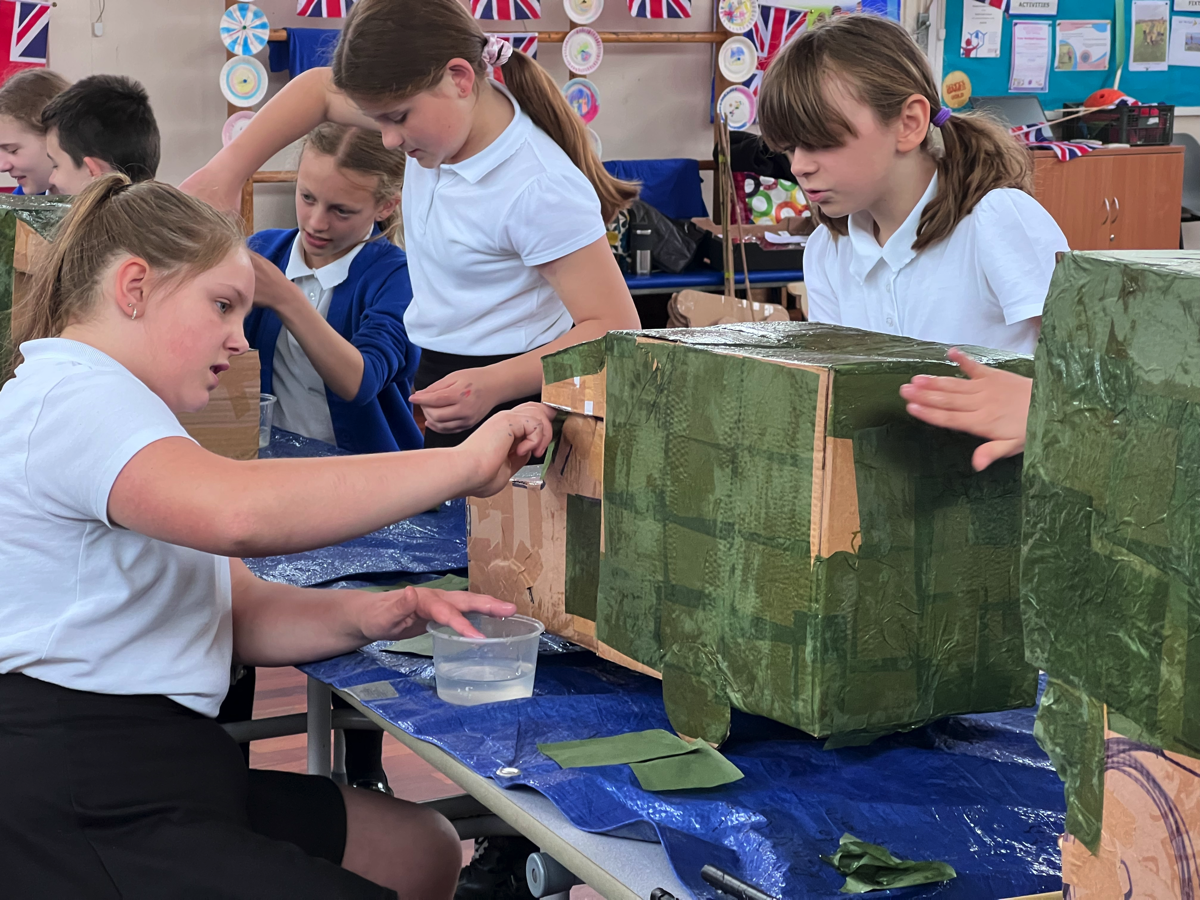 Filey - Tuesday 21st June starting on the beach at approx. 1.30pm - the best viewing position is on the promenade above!
You'll see a small fleet of historic tall ships inspired by the likes of HMS Tricomalee at the Royal Navy Museum in Hartlepool; army vehicles and Royal Air Force biplanes.
SCARBOROUGH - THURS 23RD JUNE 10.00AM SOUTH BAY BEACH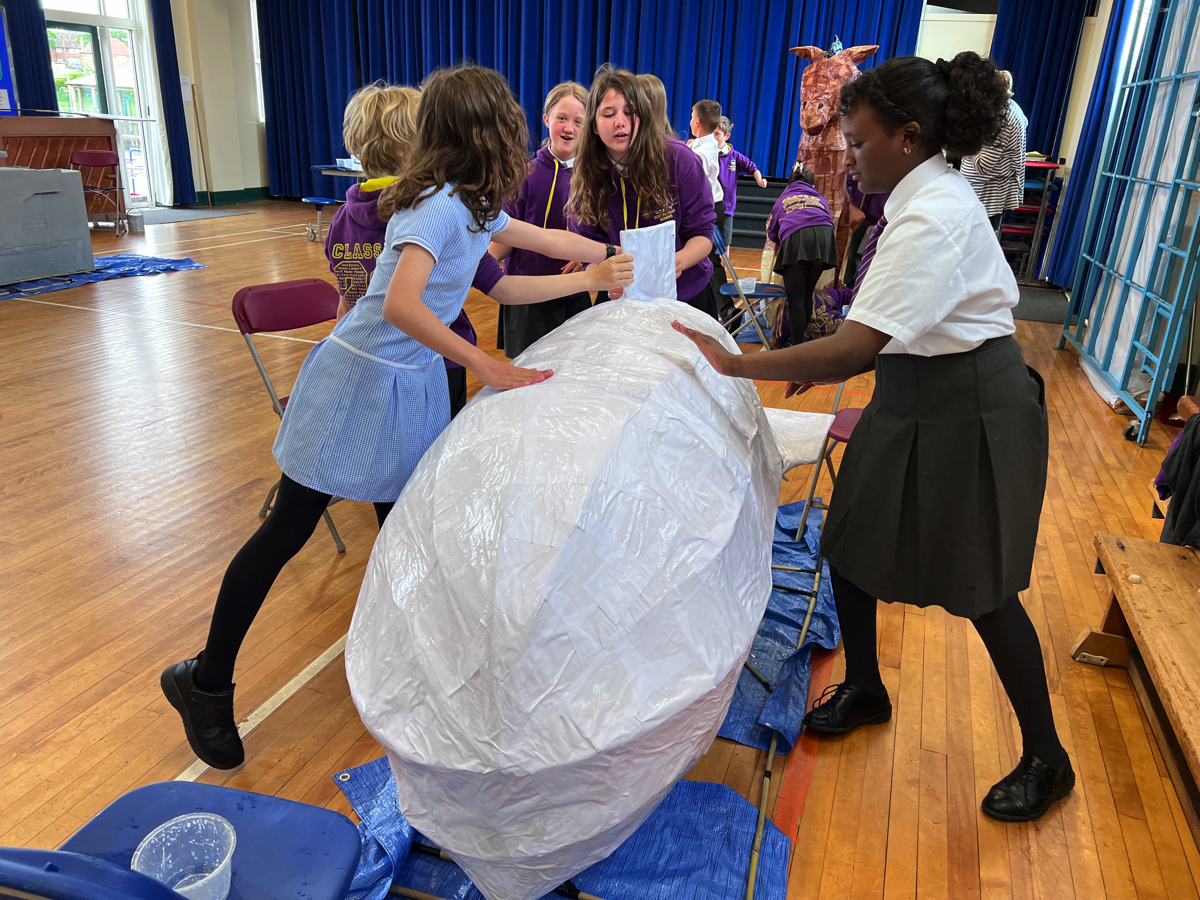 Scarborough - Thursday 23rd June on South Bay beach heading from West Pier to the Spa from 10.00am - best viewing points on the pavement or beach along the route heading south.
Look out for pieces inspired by the Battle of Britain Memorial Flight; army medical vehicles; Dunkirk small boats; the 'Remember Scarborough' tram and a War Horse.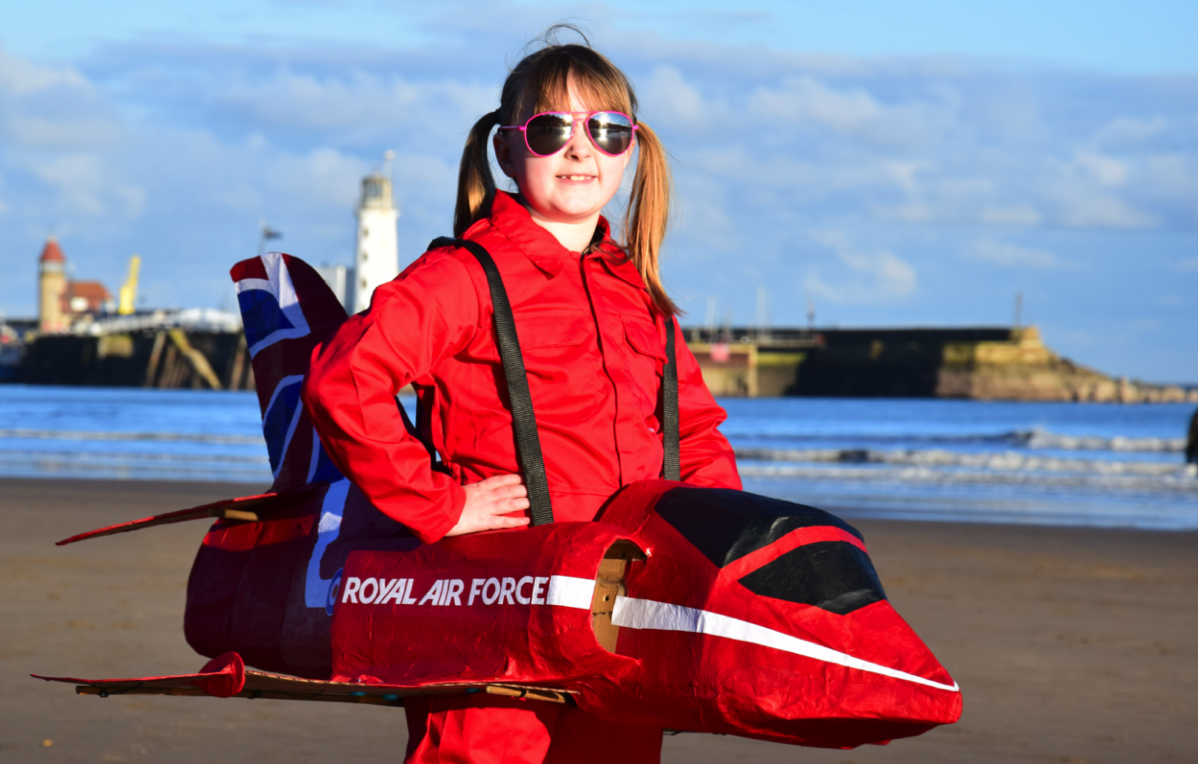 And at each town you'll also see our young people's version of the RAF Red Arrows team leading the parade.
Hundreds of children from local schools have been involved in making wonderful pieces for the parades and you can see their work in all its glory as they make their way in each town. It will truly be a visual spectacle to remember!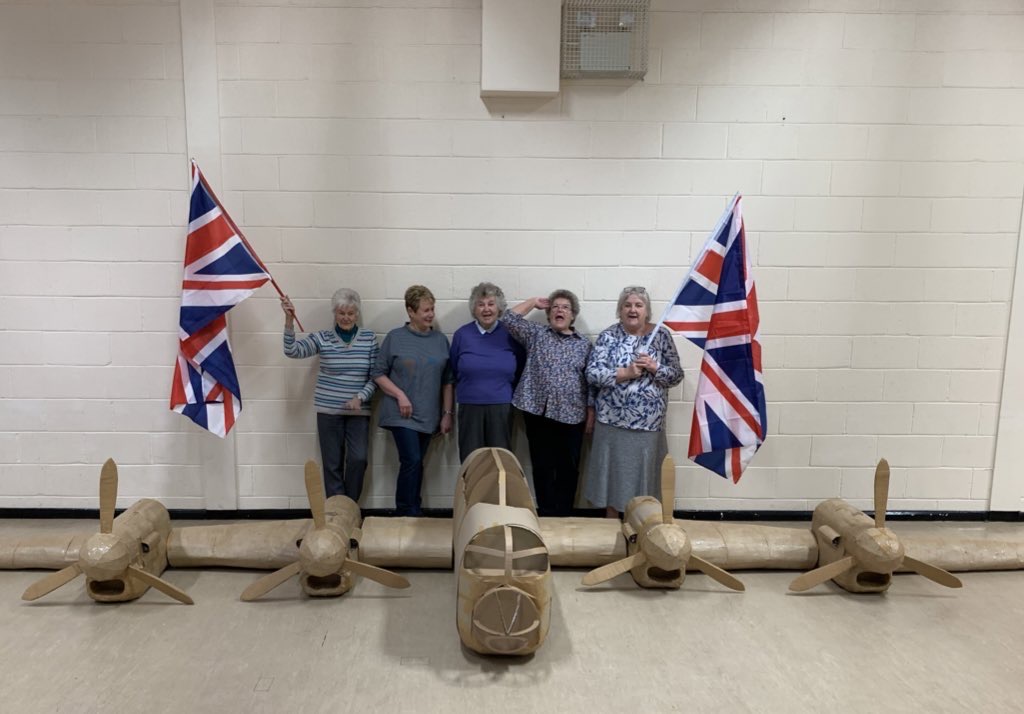 Members of local communities have also been involved in the creation of a large scale sculpture trail that will be on display around Scarborough on Saturday 25th June (please refer to the map attached) Some of these pieces will be in place from the beginning of the week, including The Young Peacekeeper at Tesco; 'Stories of Remembrance' at Woodend and the model Avro Lancaster upstairs at Scarborough's Market Hall, and they're really breathtaking to see in person. See below for details of 'The Young Soldier' that will feature in this trail.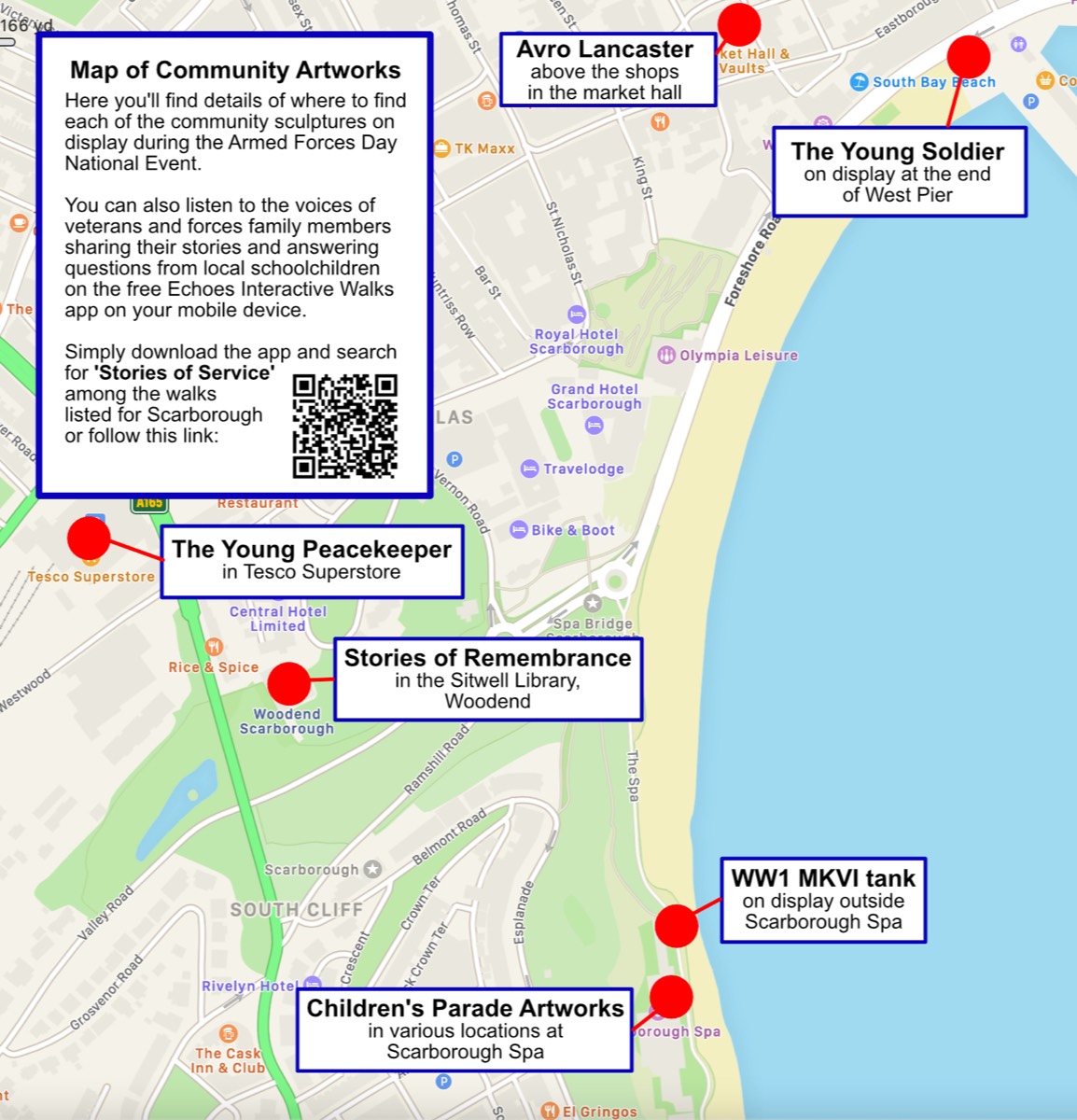 We have also been working on a series of short films for viewing online (see below), and working with veterans on a special soundscape that you can listen to on your mobile device using the free Echoes interactive walks app during the week of the National Event.

It's going to be an exciting week of events and artworks and we look forward to showing you what our communities have been working on.
Scarborough Sea Cadets - A Short Film
The 1914 Bombardment - A Child's Perspective
The Making of the Young People's Red Arrows
Behind the Scenes of the Naval Warfare at Peasholm Park
'The Young Soldier' - a community sculpture
To mark the 75th anniversary of VE Day in Scarborough, we showed a preview of a large scale sculpture called 'The Young Soldier'. He is double the size of a tall adult, and has been created following hours of careful planning, preparation and collaborative work involving people of different generations.

For those of you familiar with Scarborough, he is built to exactly the same scale as 'Freddie Gilroy and the Belsen Stragglers' by Ray Lonsdale, that sits in the town's north bay - one of the many inspirations for us when developing this piece.

Please remember to turn on your sound if you'd like to hear the narration.
'The Young Soldier' depicts a serviceman from the 1940s. He is a tribute to all the remarkable individuals; men and women who served in the Second World War; and is a reflection on the life changing experiences that those serving their country in all sorts of different ways have, and still do undergo on a daily basis.

Animated Objects worked with local residents and groups from across the Borough of Scarborough to create the figure using completely recyclable materials: in libraries; market halls; community centres and galleries. He is almost 3 metres tall even in his seated position, and took weeks to complete.

The process of designing the larger than life figure began in the autumn of 2019, with fabrication at community workshops beginning in January 2020. These sessions took place across the borough in different locations, and continued until just a week before lockdown. He has been kept safely in storage until now when he can be displayed to the public.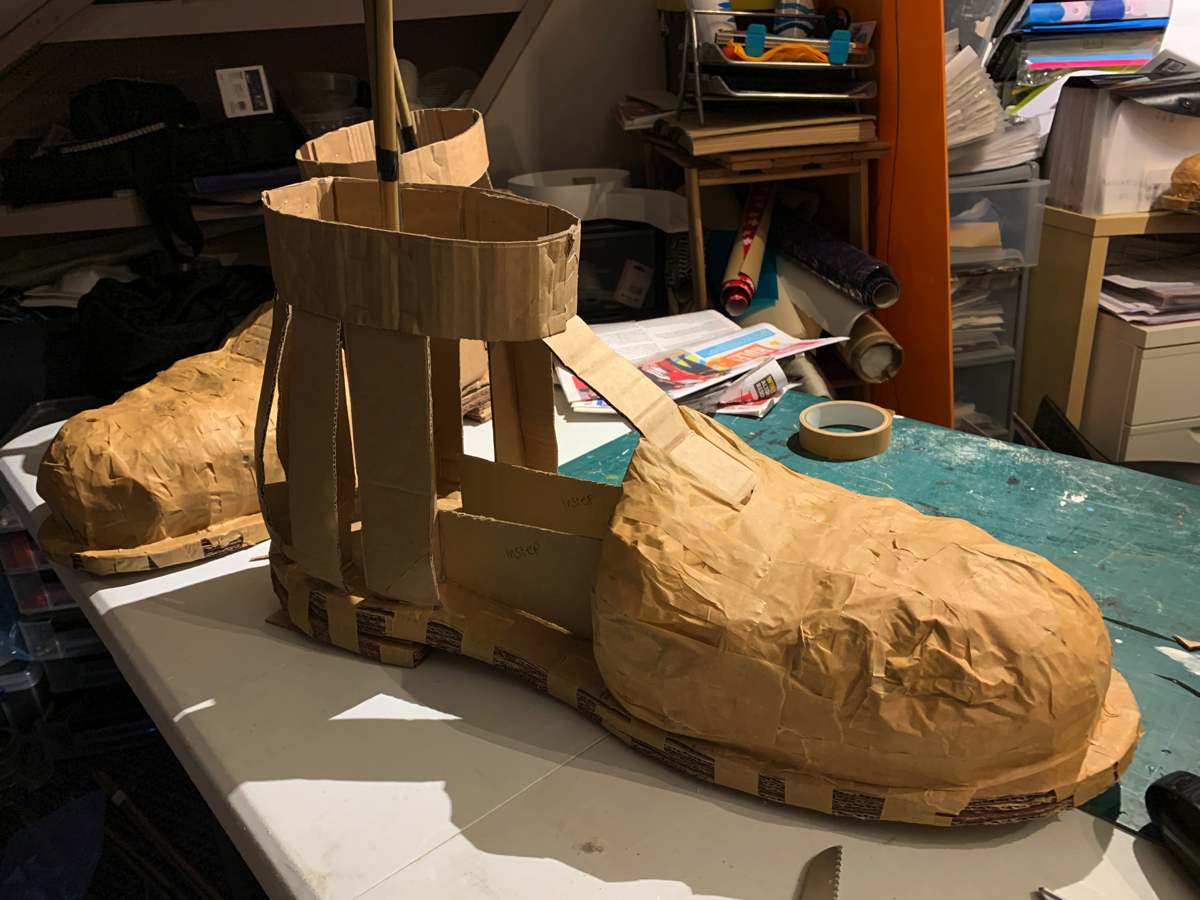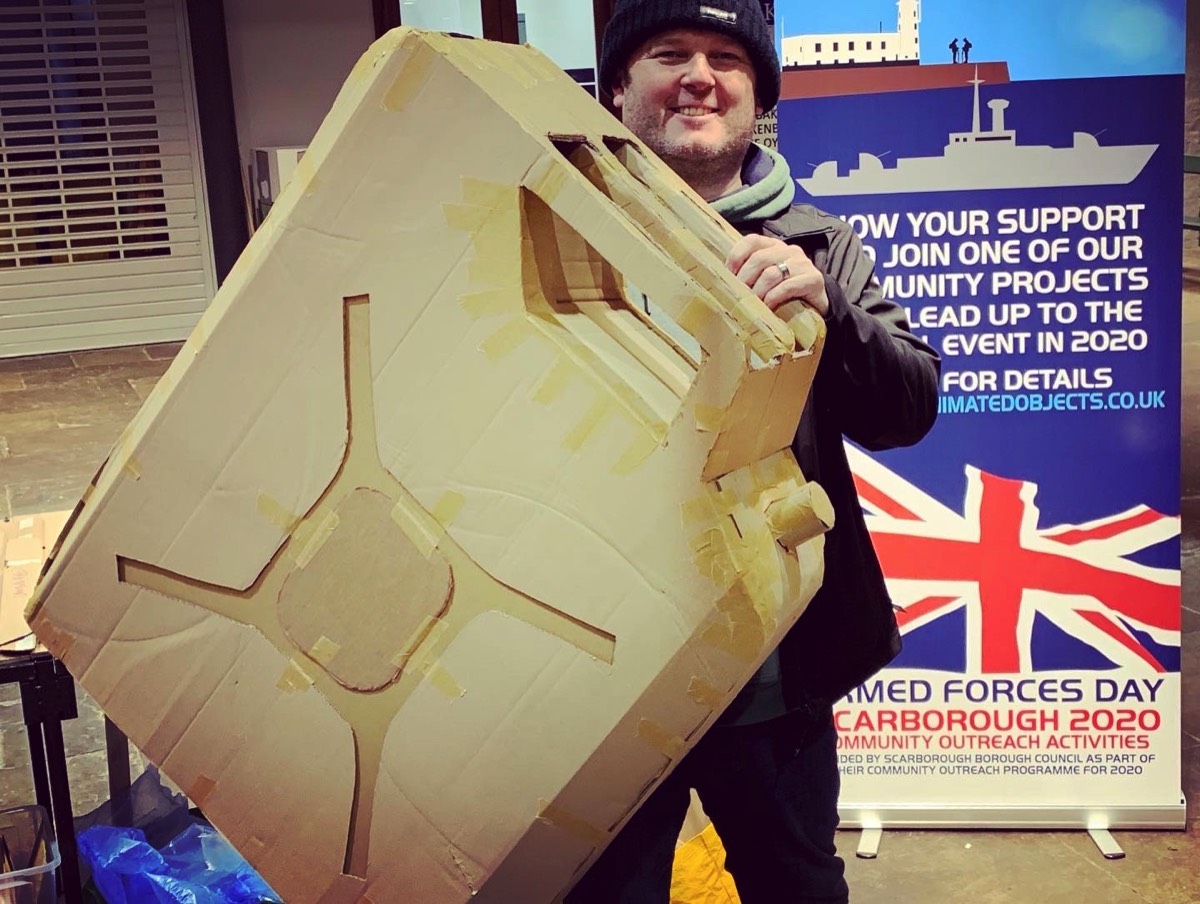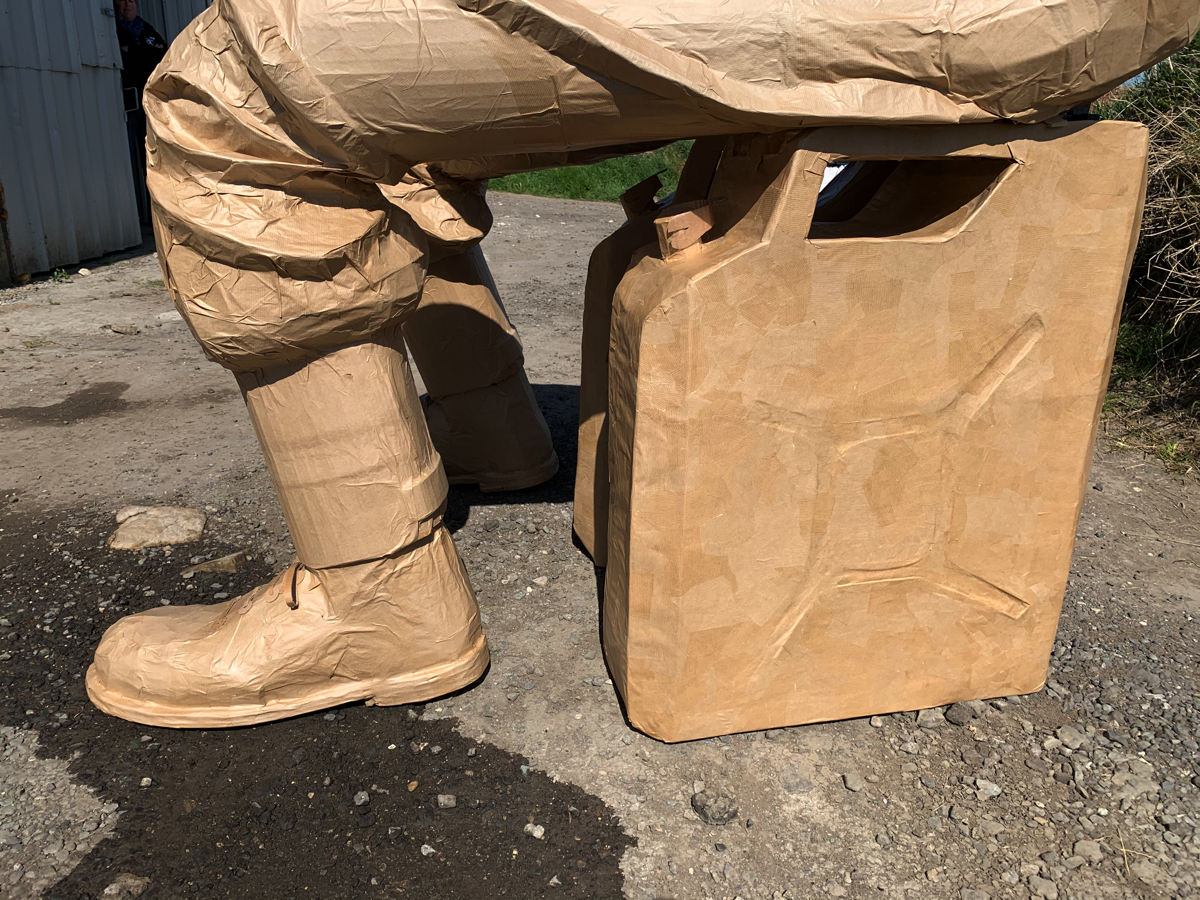 Stories of Service - a digital soundscape
This digital soundscape features the voices of veterans and their stories; reflections on their time in service and what it was like making the transition to civilian life. We would like to thank every one of the veterans who kindly gave their time to take part, and in many cases record their responses to children's questions remotely, and we hope you enjoy listening to this unique insight to veteran's lives.
Thank you to:

RFEA - The Forces Employment Charity
Yorkshire's Brain Tumour Charity
Dementia Forward
The Afghan Rug Shop

James Wilthew
Derek Nicoll
Paul Ratcliffe
Martin Coleman
Nick Barnett
Julianne Willams
Colin Grimes
James Murphy
Annette Berry

And all the young people across the borough who were involved in devising questions for our veterans to respond to!
I've had such a wonderful time. You've made my year!
Margaret, workshop participant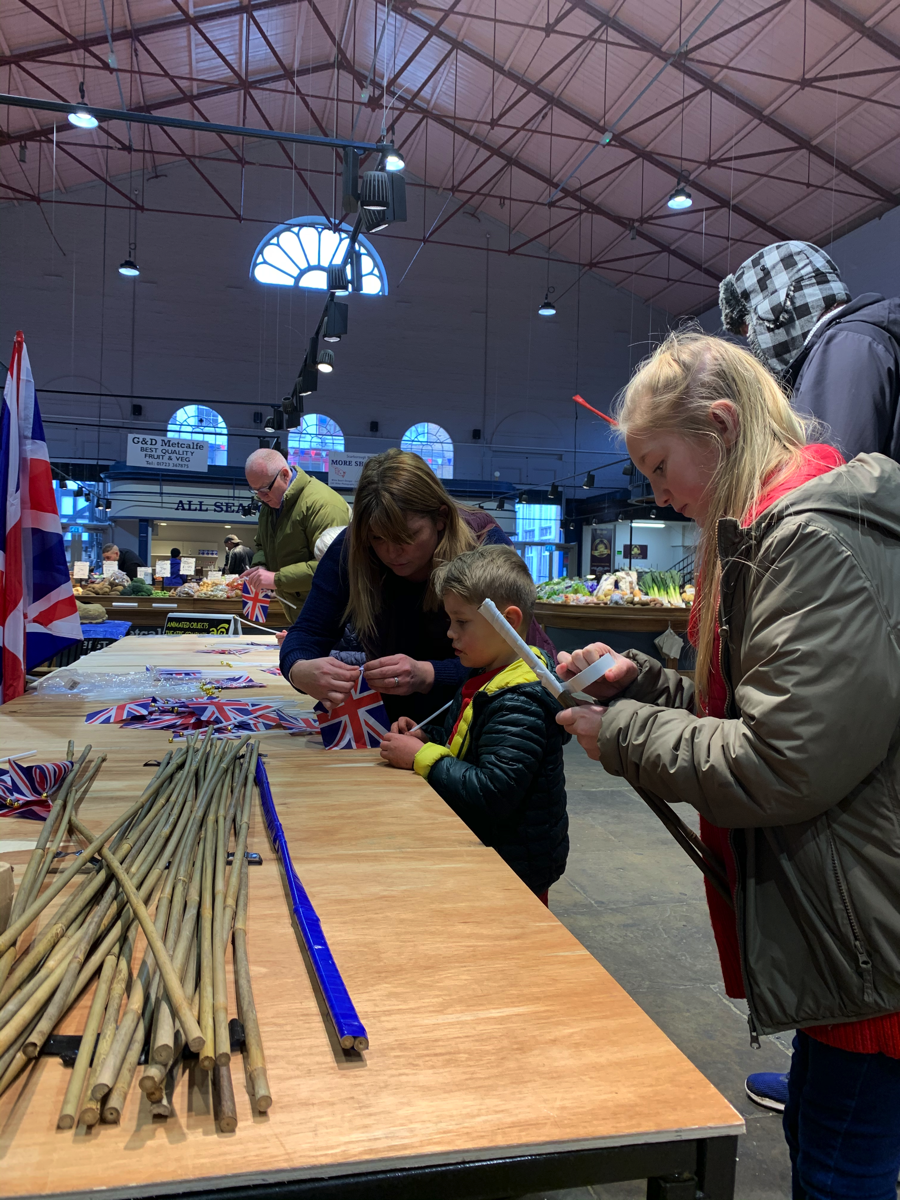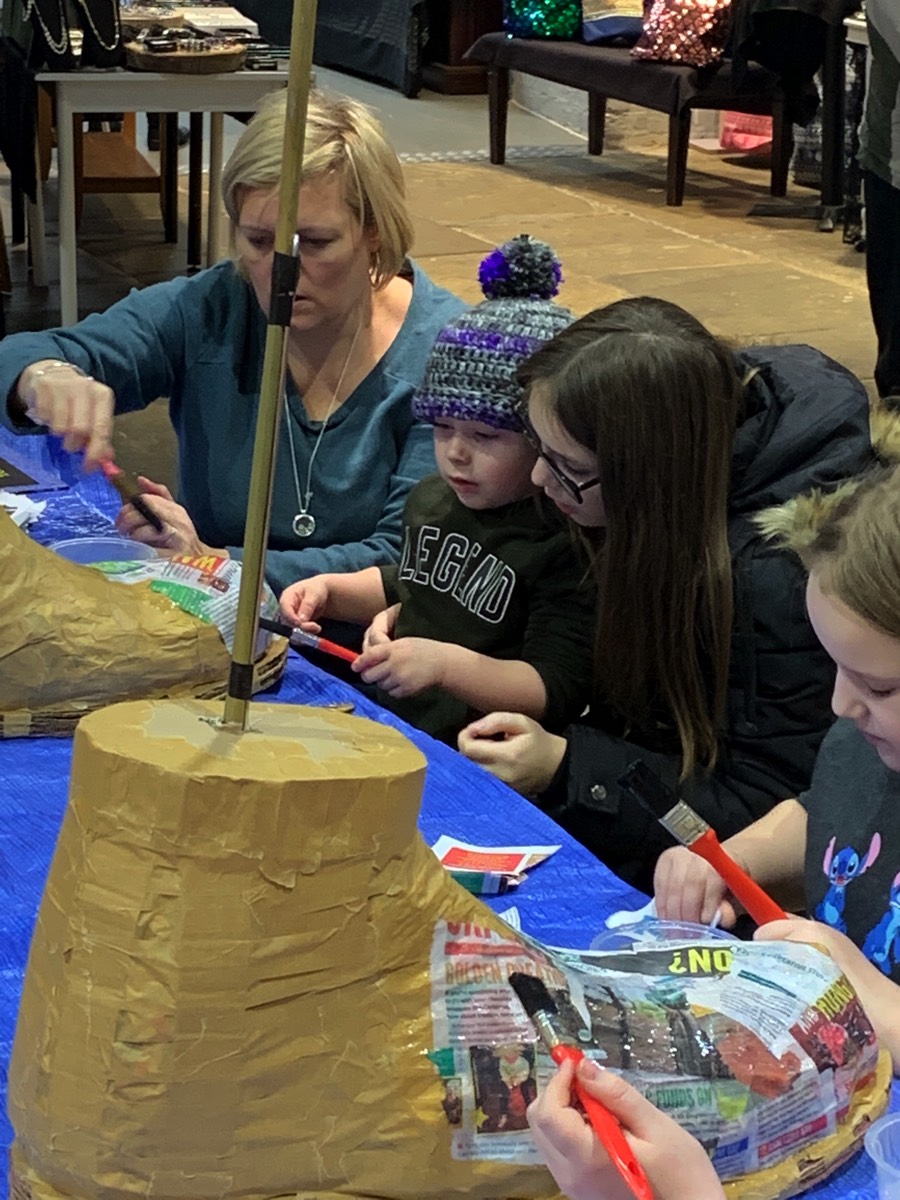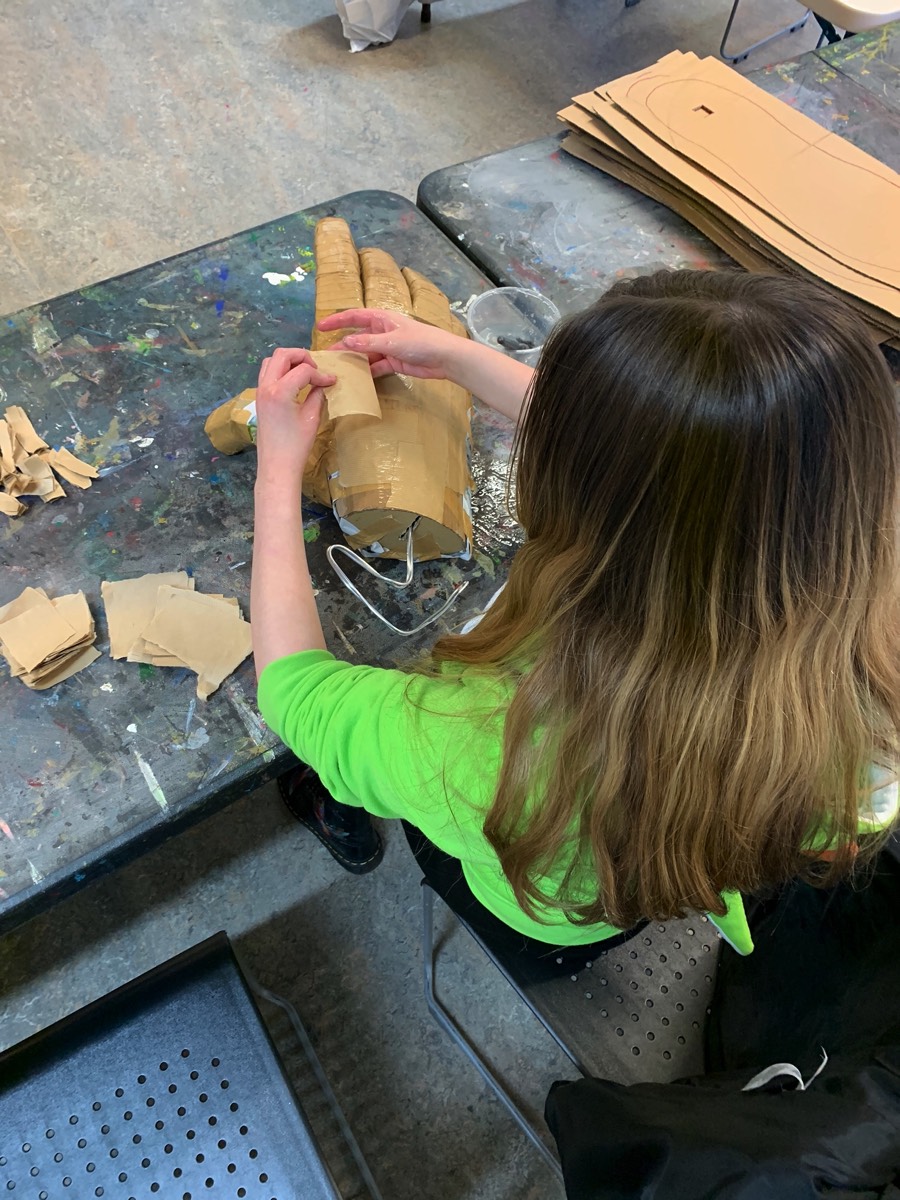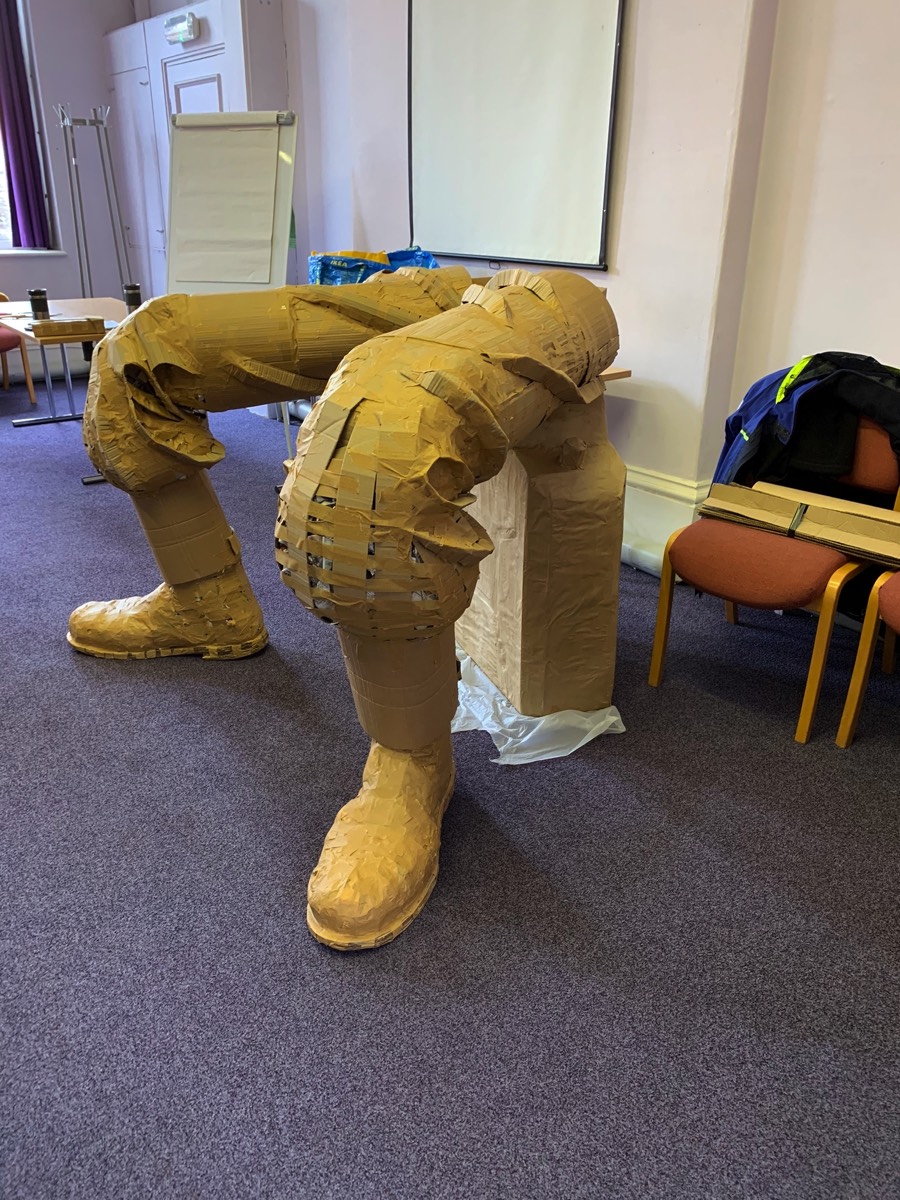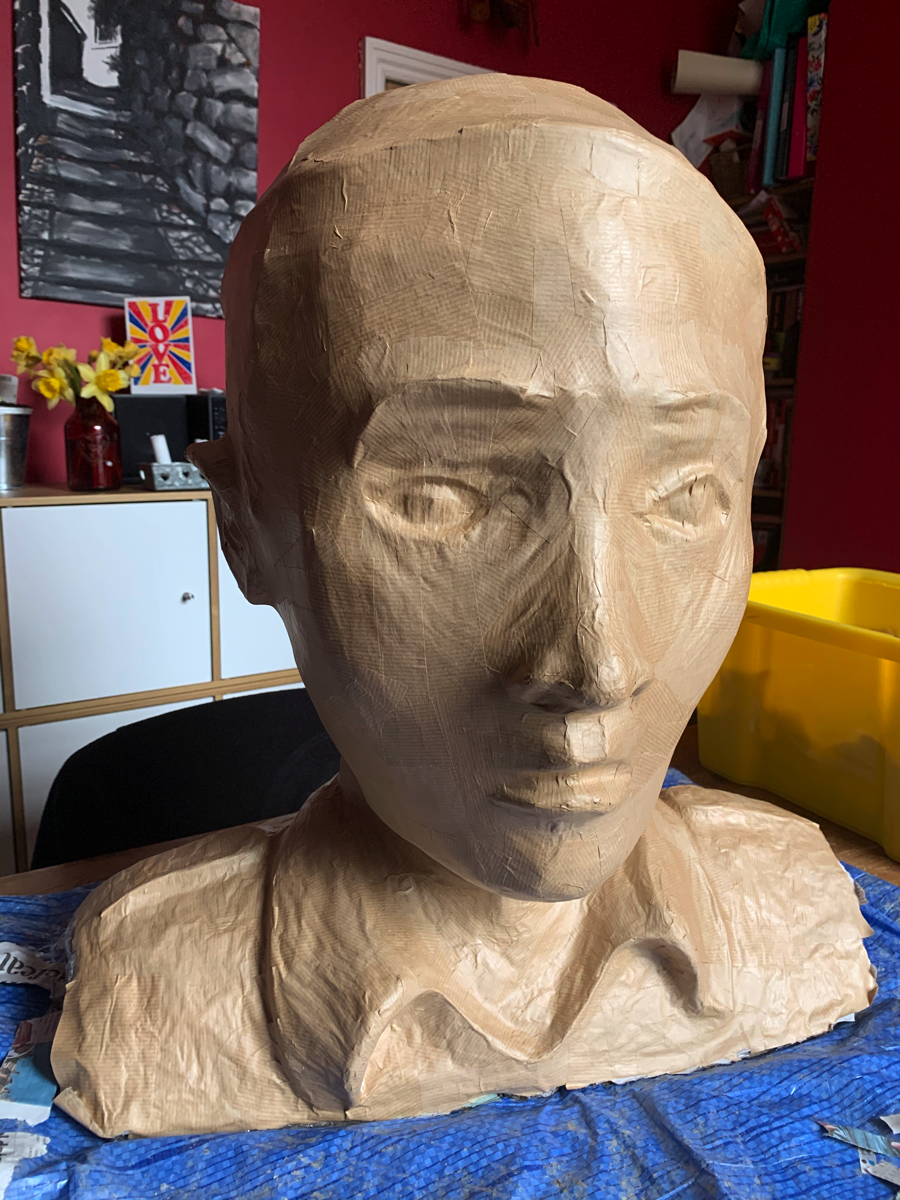 What a fantastic effort, and I know everyone loved taking part.
H French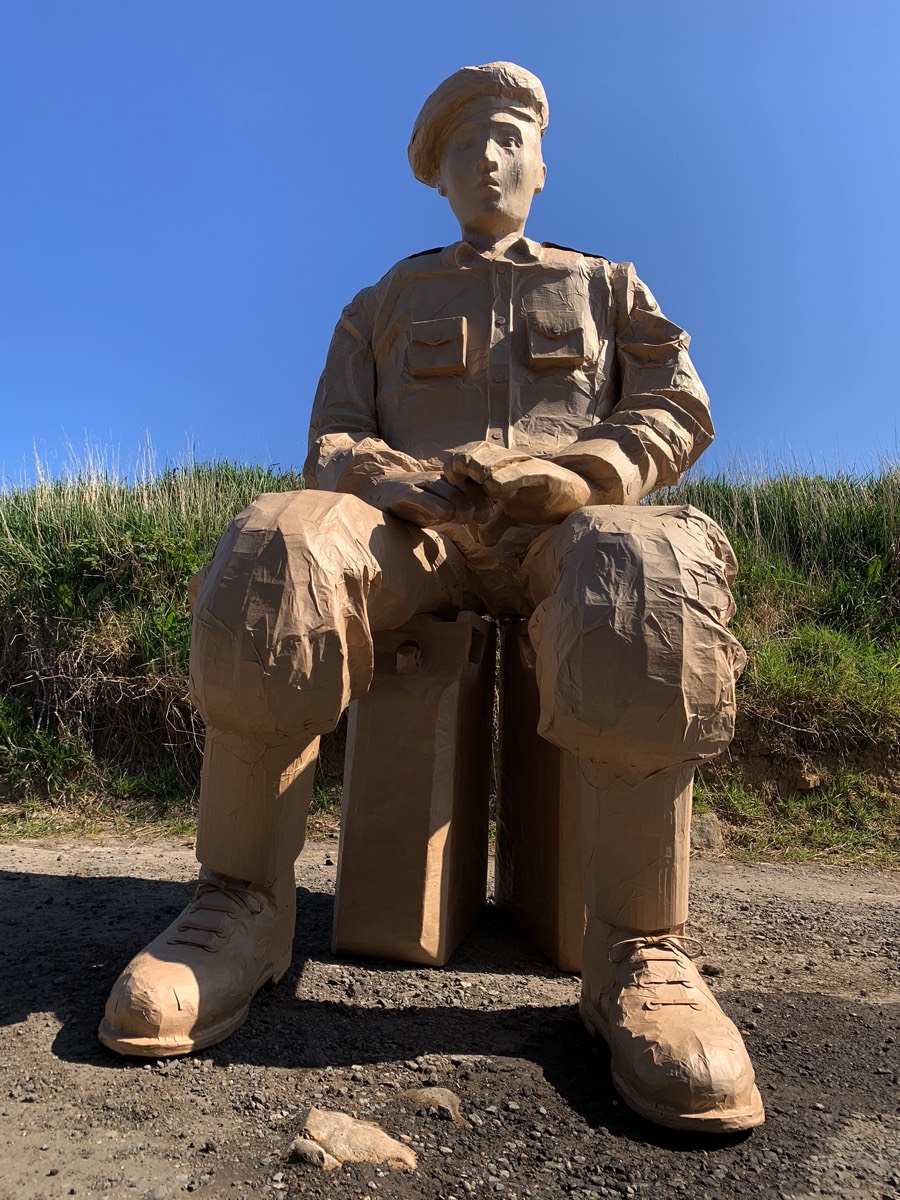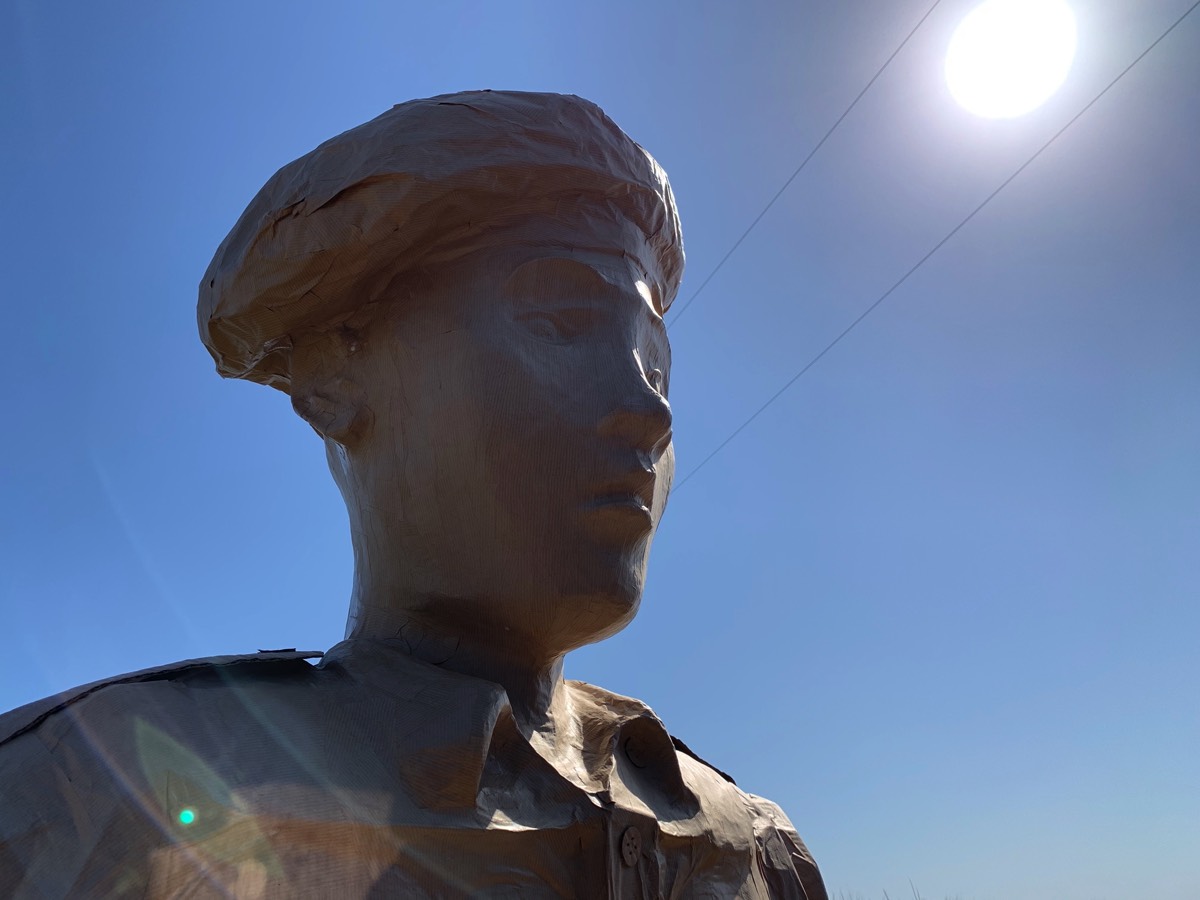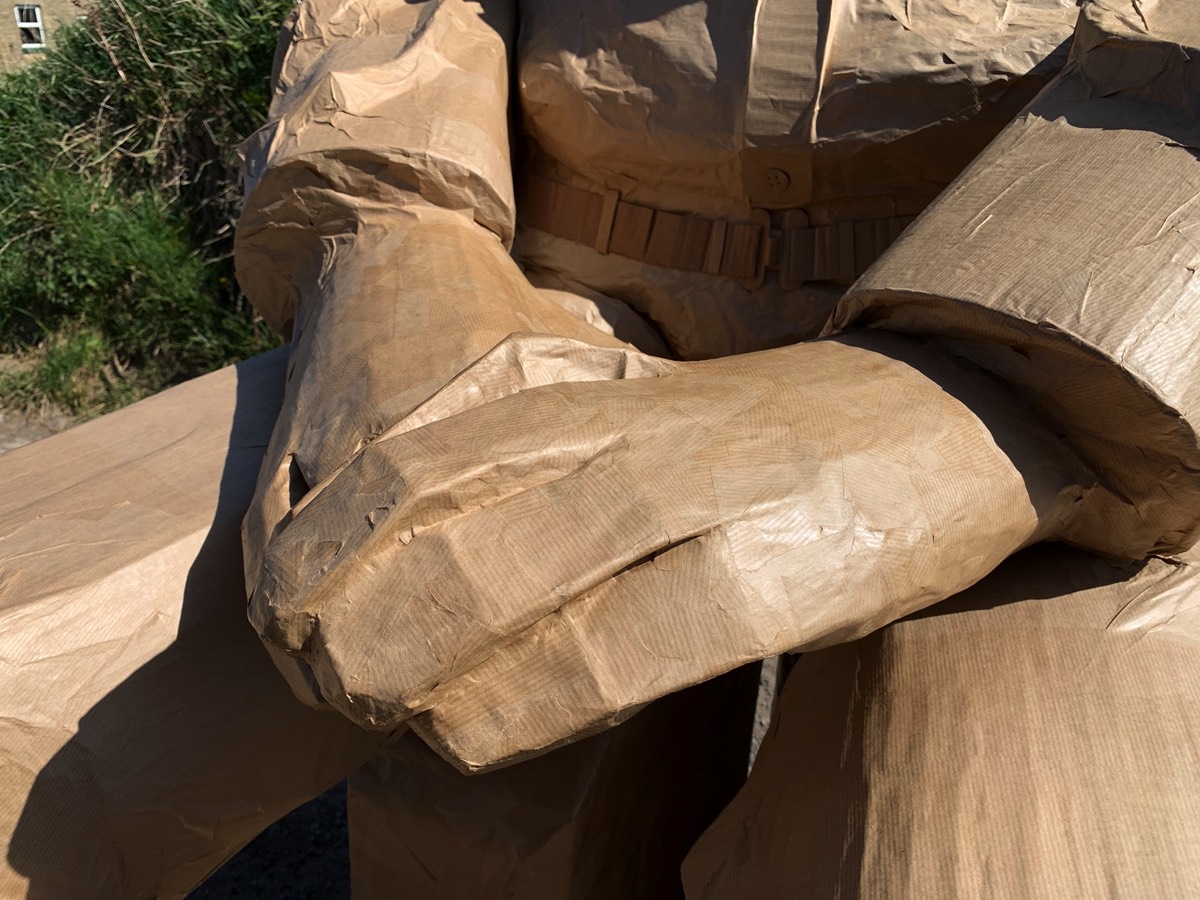 'The Young Soldier' is the first in a series of large sculptures that we have been creating with the community for Scarborough Borough Council in the lead up to the Armed Forces Day National Event.
If you would like to get involved with any of our future projects please
contact us
, or visit our social media feeds at the bottom of this page.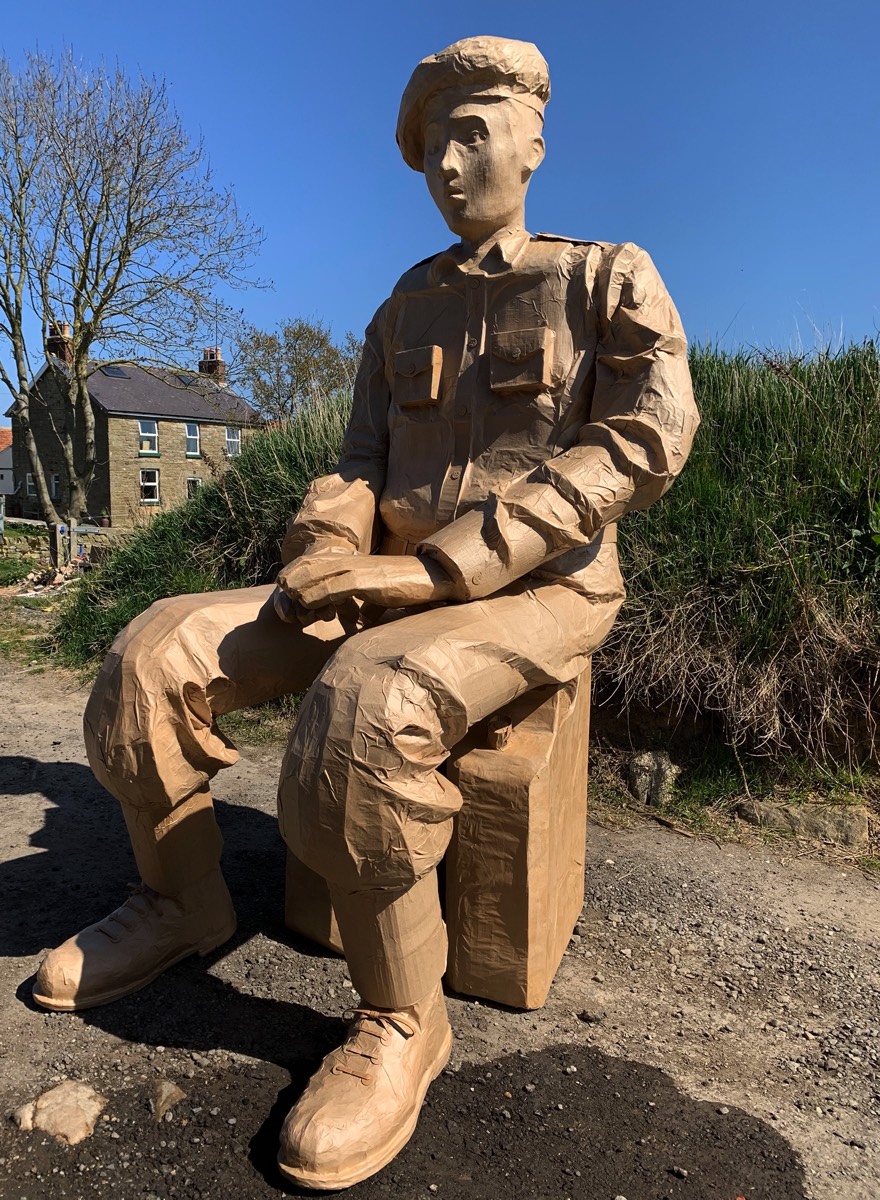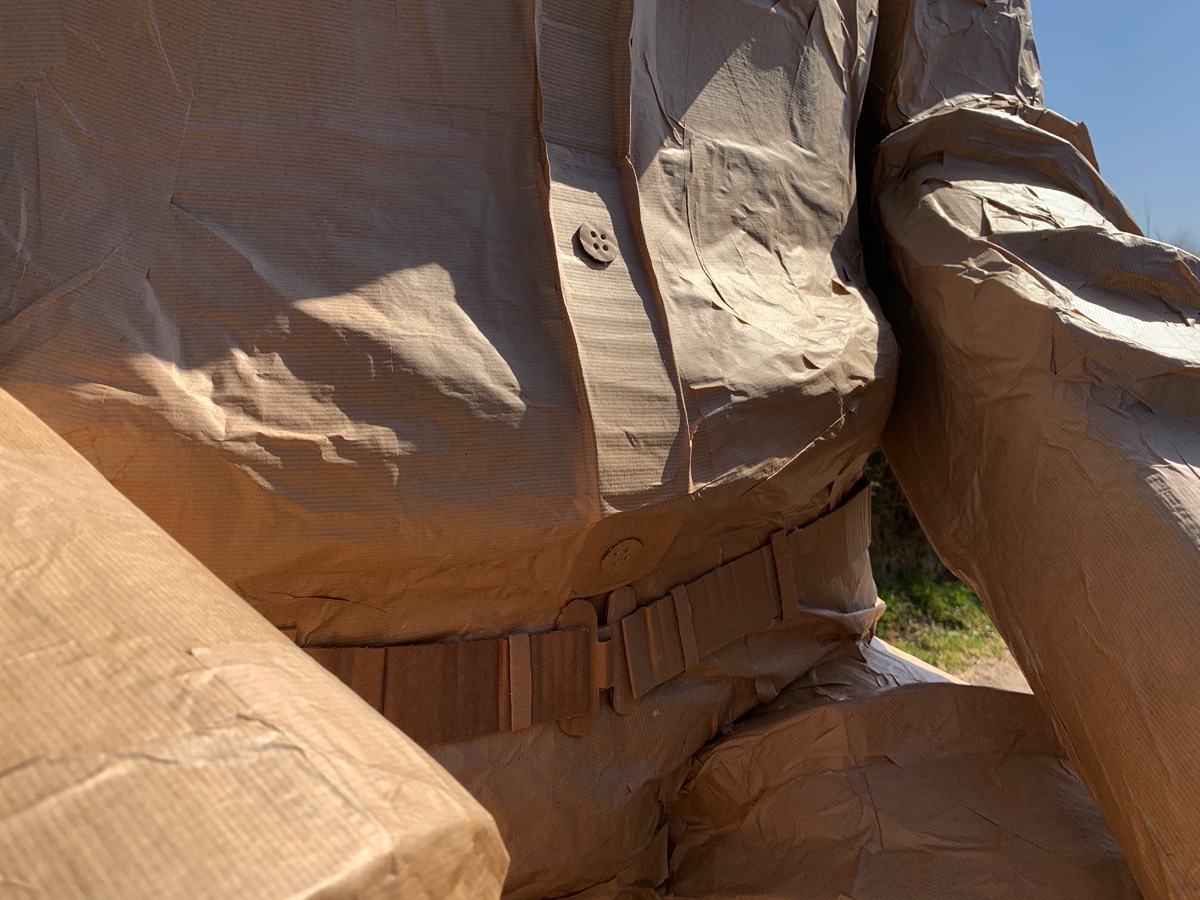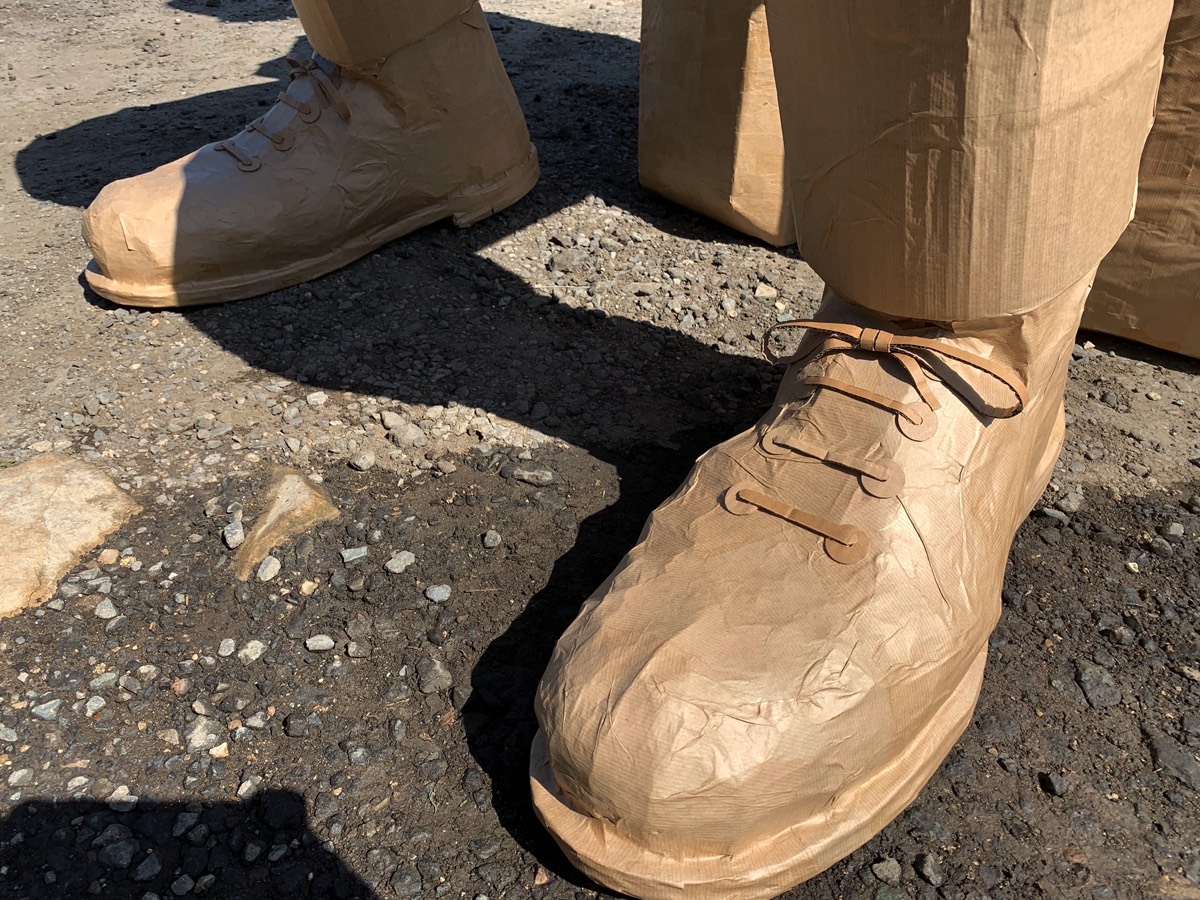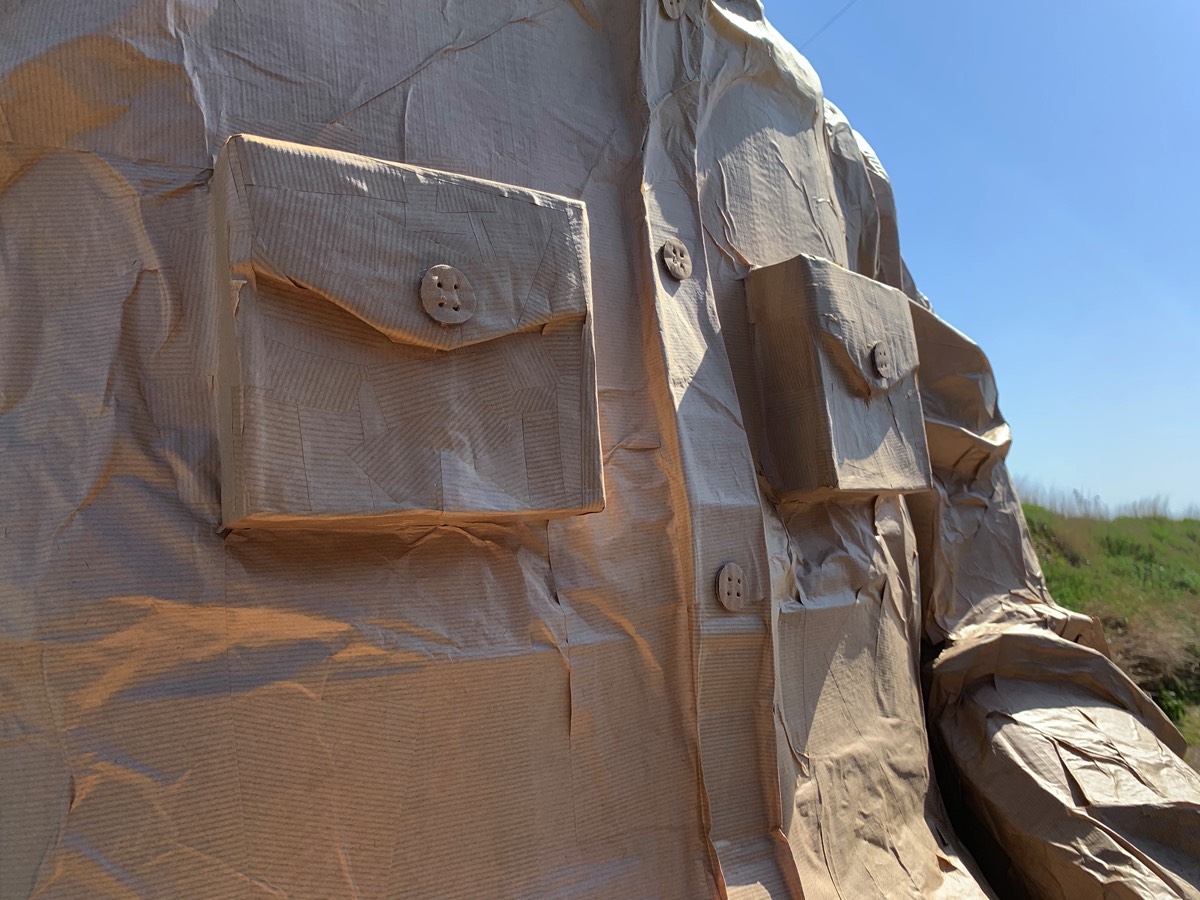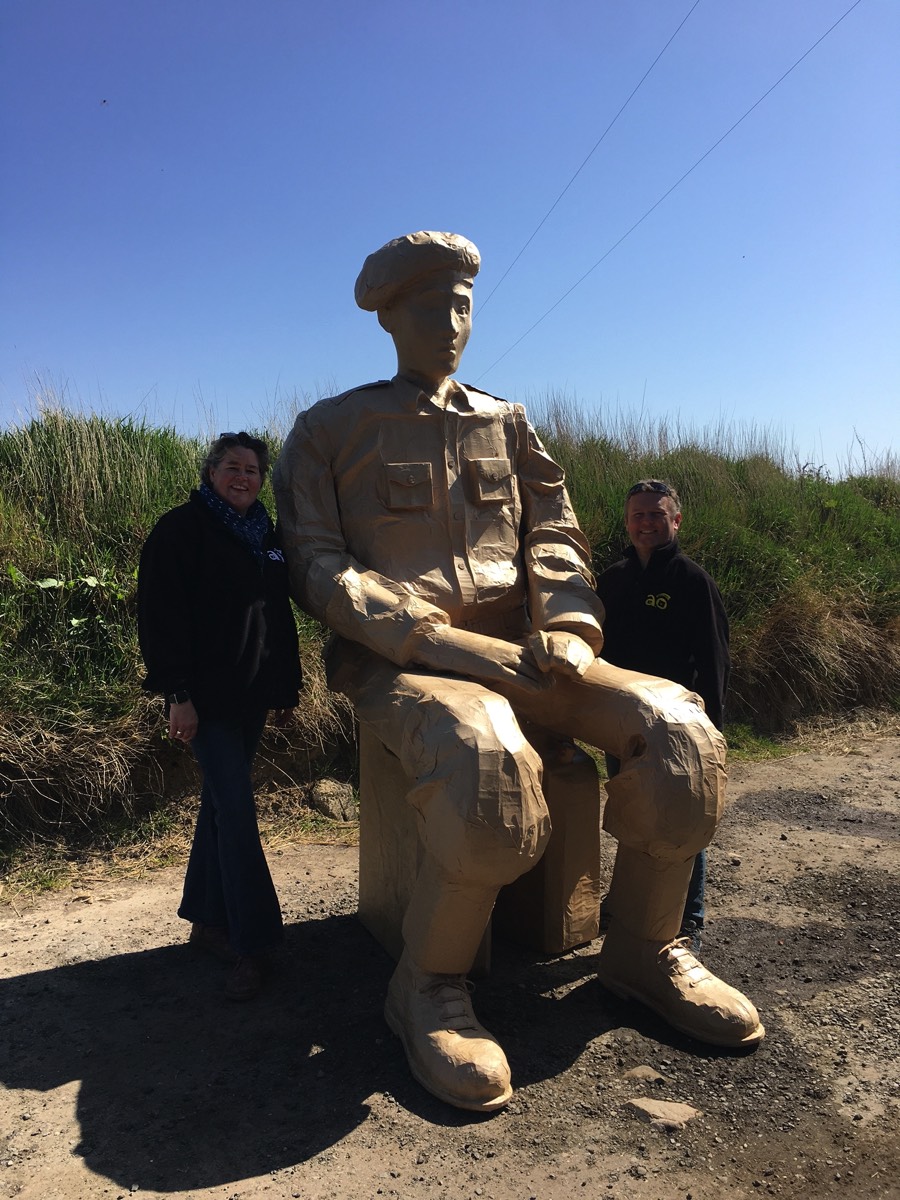 And if you're looking for ideas for the kids to try, why not have a look at some of our online video activities. Here's an example.