Animated Objects Theatre Company based in Scarborough, North Yorkshire specialise in large scale events, outdoor theatre, giant artworks and performances involving professional artists, schools and the wider community. Here you'll find details of our current work and productions, and how to get involved.


If you are a school, local authority or community organisation and are interested in working with us on future projects, please visit our workshops and events pages to see what we do and contact us to discuss your ideas in more detail. Every project is bespoke, and we can bring artistic excellence and professional event planning expertise to deliver exceptional experiences for both participants and audiences alike. If you don't see something you need, drop us a line - if we can't do it, we probably know somebody who can!

Please note that we will be structuring sessions to fit the current guidelines on social distancing, and will discuss this with you in advance of any session delivery until restrictions are lifted. (See updates below)
LATEST NEWS FOR 2020 - DON'T FORGET TO CHECK OUT OUR VIDEO GALLERY PAGE - NOW FEATURING HIGHLIGHTS FROM 'THE SONG OF LEVIATHAN' AND 'ORPHEUS THE MARINER'.
TO TAKE PART IN OUR DIGITAL PROJECT 'LIGHTING UP THE COAST', PLEASE READ DETAILS BELOW.
IF YOU WOULD LIKE TO TAKE A LOOK AT OUR MOST RECENT VIDEOS OF THE YOUNG PEOPLE'S RED ARROWS AND BEHIND THE SCENES AT THE NAVAL WARFARE AT PEASHOLM PARK, PLEASE VISIT OUR
ARMED FORCES DAY
PAGE
FOLLOW US ON INSTAGRAM, FACEBOOK AND TWITTER FOR PROJECT UPDATES, DAILY ACTIVITY VIDEOS DURING
⌗
LOCKDOWN AND LATEST NEWS!
IMPORTANT NOTICE:

Due to Government advice regarding COVID-19 during lockdown and the rules regarding social distancing over the coming months, we have suspended all upcoming public sessions until further notice.

It has been a difficult decision for us to make, as we know the positive impact these sessions can have for organisations and individuals, but we believe that this is a practical and responsible decision in these challenging times, and everyone's safety must come first.

However we have still been working on our current projects, including behind the scenes work on the Armed Forces Day National Event, which has currently been postponed; to ensure that all of you who have contributed so far will get the opportunity to see your work shared with the wider world when the time is right.

We are also developing a number of new ways of working, so that we will be able to deliver high quality work for schools and live events in the community whilst adhering to the regulations around social distancing when the current lockdown allows us to do so. This will mean that events are going to be different for some time, but we have a number of positive strategies for bringing communities together again whatever the future may bring.

Keep safe out there; look out for each other; and we hope to be working with you all again soon.


LIGHTING UP THE COAST - AN ONLINE DIGITAL PARTICIPATION PROJECT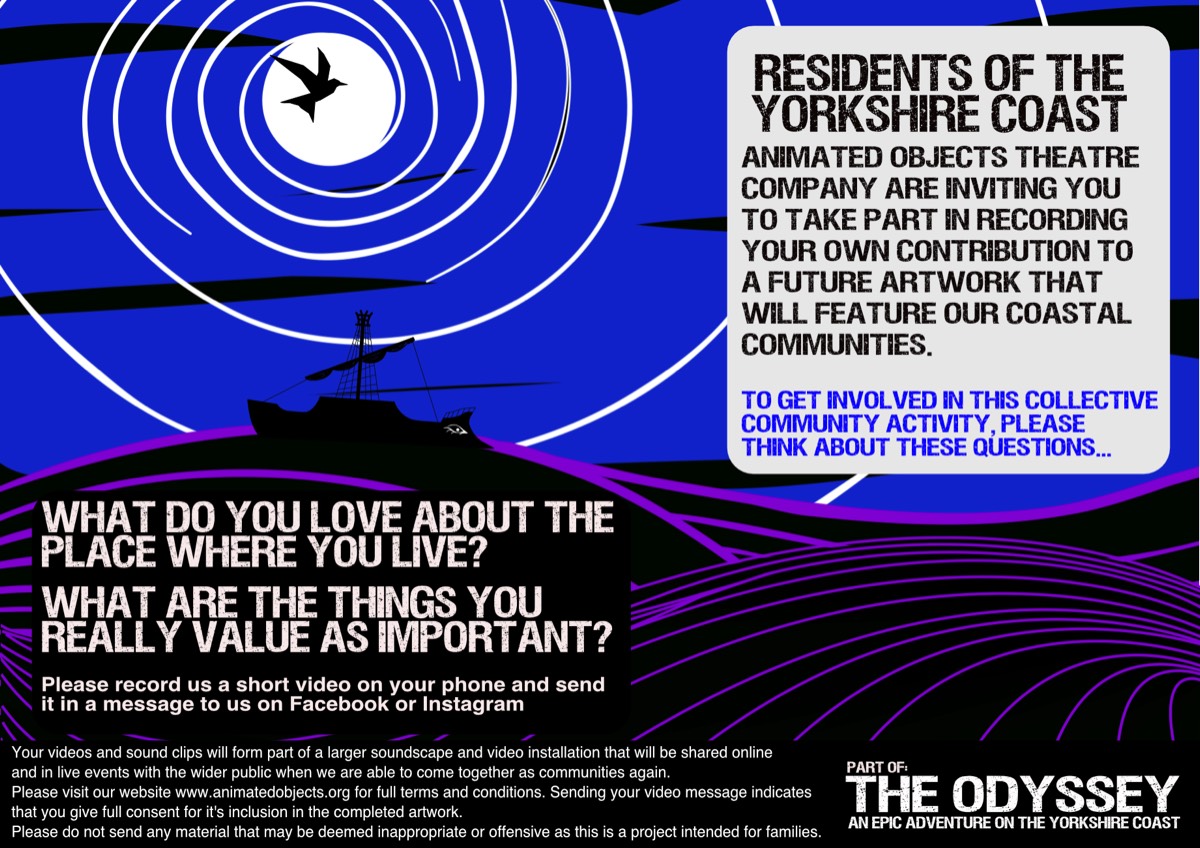 If you're living on the Yorkshire coast or in the surrounding area and you'd like to get involved with our 'Lighting up the Coast' project as published on our social media channels, we're asking you to record us a short video answering the following questions:
What do you love about the place where you live?
What do you value most in your life?
We're looking for voices from people across the length of the Yorkshire coast, and we'd love to hear from you. Simply record your message using your phone's camera and send it to us in a message on either Facebook or Instagram including the hashtag
⌗
lightingupthecoast
Terms and Conditions:
You must be 18 or over to participate in the project, as the videos submitted will be included in a public artwork. If you would like to include your family in your video that is fine, but there must be a responsible adult present in the video or it will be deleted.
By submitting your video you are giving Animated Objects Theatre Company consent to use the content as part of public artworks as described.
Please ensure that any content is appropriate for a family audience. Any offensive content submitted will be deleted and/or reported to the relevant service provider.
Submission of videos does not guarantee that they will be included in the final piece. We will endeavour to include as many as possible, but this will depend on the volume of videos we receive; the sound quality of your content; and how different pieces work together.
Things to think about:
Try to record your video in a quiet environment. It's easy for us to block out everyday sounds when we hear them all the time, but if you're standing next to a washing machine on spin cycle, we won't be able to hear you properly…
Please be safe! Record your film in your home or garden please - not out on the streets or in the countryside. If you have a picture of your favourite spot on the Yorkshire coast and you're happy for us to use it, please include this alongside your video when you message us.
If you'd like us to use your video images, then please make sure we can see you properly. If you'd prefer us to use only your voice, then either point the camera away from you while you speak, or add the text 'PLEASE USE MY VOICE ONLY' IN YOUR MESSAGE.
And finally:
Follow us on Facebook, Instagram or Twitter to receive updates for when we will be releasing the completed artwork to the public, and for future events when the current situation allows.
We look forward to hearing from you!
ART ACTIVITIES FOR FAMILIES:

In the meantime, we are publishing a different art activity or challenge every day on our Instagram, Twitter and Facebook feeds until schools reopen for families staying at home . The focus will be on using materials that can be found easily; recycling packaging from everyday items, or drawing techniques; and for parents and children working on challenges together. Hope you find them of interest. As a taster of what we're suggesting, below are a couple of examples:

Follow us on Instagram, Twitter or Facebook (see feeds below) to see new activities, or visit Animated Objects Theatre Company's YouTube Channel to browse through some of our previous videos.



Here's a lovely activity showing how to draw expressive trees of different kinds. Enjoy!
And for those of you looking for something a bit more challenging to work on with parents and kids together, then have a look at this:

Biplane model using no glue or sticky tape (although tape might be a good idea if you're working with younger children)

Difficulty Level: MODERATE - PARENTAL HELP ADVISED
Stay in touch via social media:
It was great to work with the wonderful @animatedobjects again this year. Thank you for all your hard work and expertise.
Whitby Town Council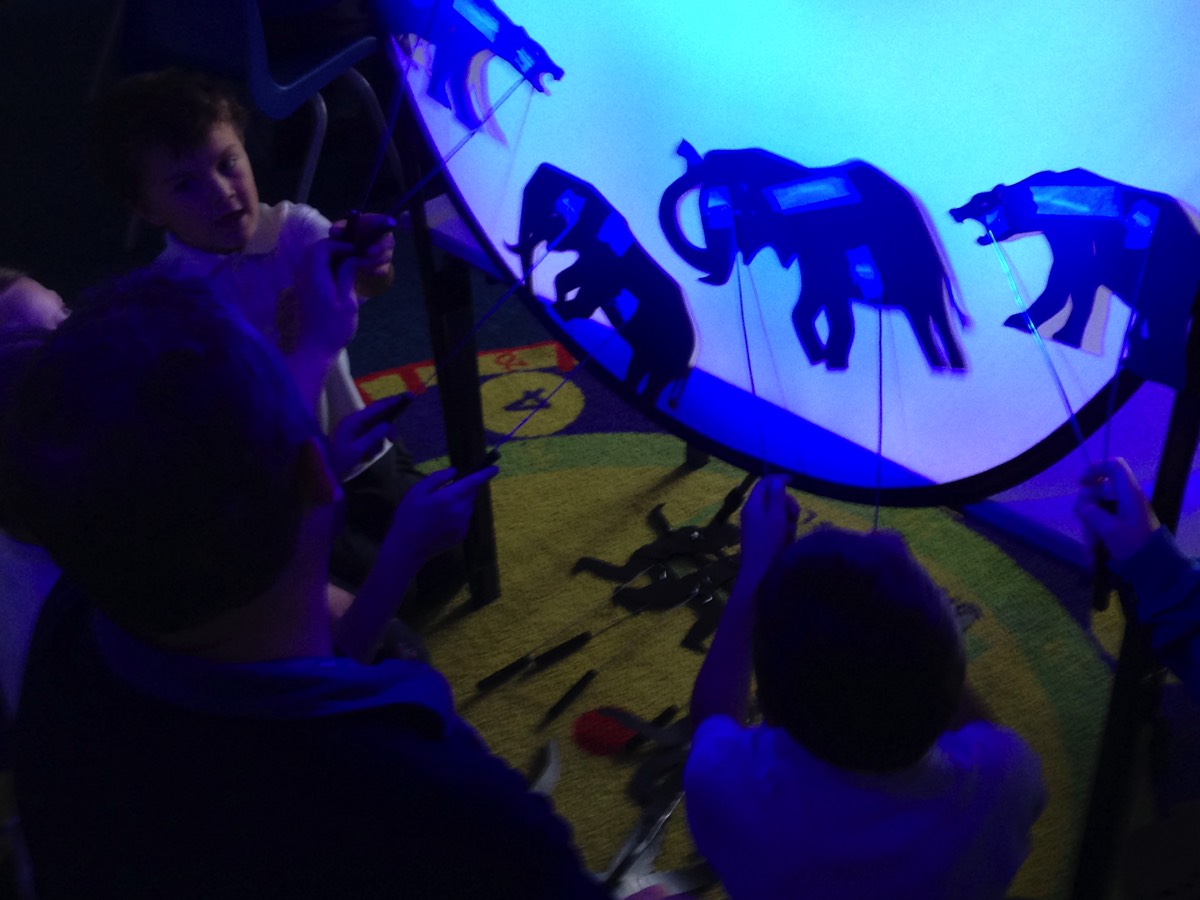 Follow us on social media following the links below to keep in touch with future events: